marthastewart.com



Although I should start with hors d'oeuvres

and cocktails, I think I shall start my Thanksgiving series on the kids' table. Sometimes this is at the back of your mind, but the addition of a "kids' table" makes all the difference in the world, in my humble opinion. When the kids are entertained and happy, parents are happy, and can thus enjoy their Thanksgiving meal (with a glass of wine.)
countryliving.com
First things first - don't even try to use your fine linen. Make things simple and fun by using plain brown wrapping paper for a tablecloth. You could also use a more colorful paper tablecloth with Thanksgiving decorations (I found a very cute one at Target..) For place mats, find large sheets of coordinating construction paper. Tuck a set of crayons inside each folded napkin, or provide a metal tub full of crayons for everyone.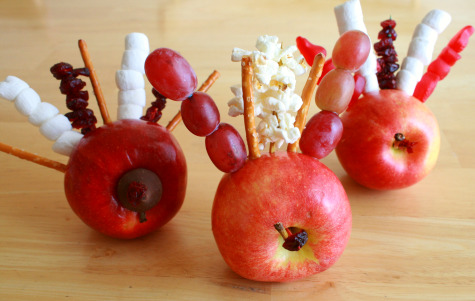 makeandtakes.com
As soon as you sit down, while the little ones are having their plates filled with food, it's a good idea to have something they can nibble on in the meantime. I found this cute idea to make edible turkey decorations. Depending on the ages of the children, you could even have all the supplies out ready to go, and they can make their own turkeys. I like this idea versus many on the web because you can use all healthy non-candy items. If you give kids chocolate peanut butter cups prior to dinner, you will never get them to eat their peas!!
For an extra treat, grace each place setting with a paper pilgrim hat from Amazon.com. You can turn it upside down and place the crayons inside, or place the utensils and napkin inside.
Books make great favors. Here are a couple of my favorites. Even for toddlers and babies, they make great gifts that their parents can read to them and save over the years.
teachablemoment on Etsy.com
There is a great book called, "I Know an Old Lady Who Swallowed a Pie" On Etsy.com I found a felt board set that goes along with the story. (Felt boards are easy to make. Just cover a individual chalk or wipe-off board with felt. Felt pictures can then be attached easily to the board.) Felt boards are a great Thanksgiving activity for little ones, even babies, as well.
You might want to include some special drinks and desserts for the kids' table.
Drinksmixer.com
has some simple non-alcoholic apple flavored drinks that you can dress up. Around the rim of each glass, dip in lime juice then brown sugar (or even Pop-Rocks, if you dare!). For dessert, kids will delight in their own caramel apple versus the grown-up slice of pumpkin pie. See
Our Best Bites
for an easy recipe for gourmet style caramel apples. Attached to each stick, stick with a glue dot a Thanksgiving die cut from your local craft or scrapbook store.
For after (or before) dinner fun, check out Family Fun's website
(here)
for some printable parade and football bingo games.